We're thankful to be supported by small businesses with big ideas, and big companies who are serious about their corporate social responsibility. But we know that it's not all about us. So, when you support the foundation, we make sure your business benefits too.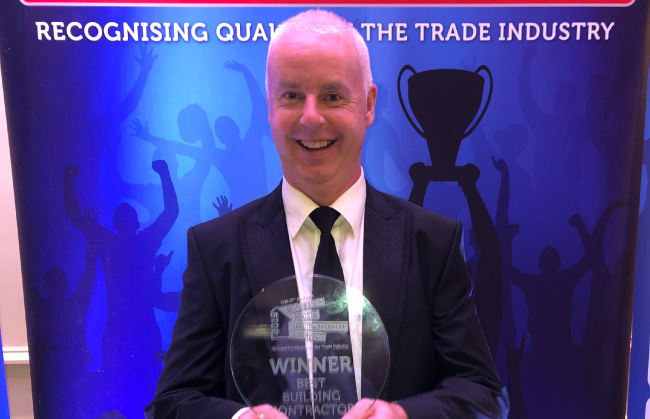 "Earnock Builders are proud to be a Corporate Partner of the Catherine McEwan Foundation. We have supported the Foundation's work for many years and their inspiring work and commitment is exceptional. We could not ask for a better charity partner for our business."
Bill McEvoy
Managing Director, Earnock Builders
Here are some of the ways your business can benefit:
Motivate and engage employees, and improve staff morale
Show your staff, customers, clients and other stakeholders that you care about your community
Meet and exceed your corporate social responsibilities
Associate your brand with an organisation delivering excellence in patient care across Scotland and beyond
Access high-quality hospitality opportunities that make a difference too
And there are many ways we can work together:
Choose us as your Charity of the Year. Boost staff morale and motivate your team with everyone working towards the same goal and worthwhile cause.
Make a corporate donation or give a gift in kind. Tax benefits aside, you'll also get plenty of positive publicity (if you want it). A monetary gift, pro-bono service, raffle or auction prize will all make a difference.
Give staff volunteering days. We have lots of one-off volunteering opportunities that are ideal for developing new skills and motivating staff.
Host a collection tin in your business. A small collection tin sat in your staff canteen, on a shop counter or by the coffee machine can make a big difference to someone's life. And because it's visual, your staff, customers, clients and visitors can see your commitment to your community.
Take part in one of our team events. Bring staff together to take part in one of our events and encourage team building.
Organise your own fundraising. Easy-to-organise events such as dress down days are simple, fun ways that everyone can get involved in to raise money.
Match-fund employee fundraising. Many employers offer to match the money raised by their employees, could you do the same?
---
Get in touch!
To find out about corporate sponsorship, please call us on 0141 648 8800 or use our easy to use enquiry form.